TCA Wellness – Powered by Rolling Strong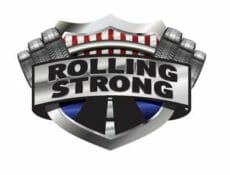 NTDAW Driver Health Fairs
During National Truck Driver Appreciation Week, Rolling Strong hosted eight select TravelCenters of America and Petro locations, nationwide. Professional truck drivers had the chance to talk one-on-one with TCA Wellness CDL Coaches, participate in exercise activities and more. View photos from events. 
About TCA Wellness
The Truckload Carriers Association (TCA) has joined with Rolling Strong to offer its member companies – and other fleets committed to the welfare of their drivers – the expertise and resources required to establish broad, in-house wellness programs that have been proven, in a dozen different states, to return at least three dollars for every dollar of expense.
The TCA Wellness program, that Rolling Strong is operating on behalf of TCA and its members, provides trucking companies with the means to establish an internal operation that exactly matches their needs, their size and, most important of all, their available budget. For less than two dollars per driver per month, the "baseline" program provides every participant with:
Free access to thousands of health-check stations across the country, plus an annual bio-screening.
A driver-centric, smartphone app with field-tested guidance to nutrition/exercise on the road and GPS guidance to participating pharmacies and clinics.
Telephone access to TCA-approved, CDL health-coaches, specifically trained to work within the difficult limits that professional drivers experience every day.
This baseline provides tools that can make a real difference, but it can also be the foundation for a more complex and far-reaching transformation. With decades of experience, Rolling Strong is perfectly-placed to develop customized combinations of TCA Wellness' fifteen additional services that will seriously enhance driver-retention efforts. Trained account executives work with the Risk Management and/or HR Department to develop exactly the right wellness regime for each company and, with ongoing help from experts, it is those departments that oversee this innovative and practical solution to driver-turnover.
According to long-time TCA member Joey Hogan of Covenant Transport, "It is no exaggeration to say that Rolling Strong has added thousands of dollars to our bottom line. Many of us are turning away business because we just don't have the drivers," says Hogan. "The team at Rolling Strong has kept an impressive number of drivers on the road who would otherwise have been lost to us."
View informative flyer.
Check out the program announcement press release. For more information, contact tcawellness@rollingstrong.com.