View All Events
International Freight & Port Congestion: The Impact on Domestic Freight
Tuesday, November 9, 2021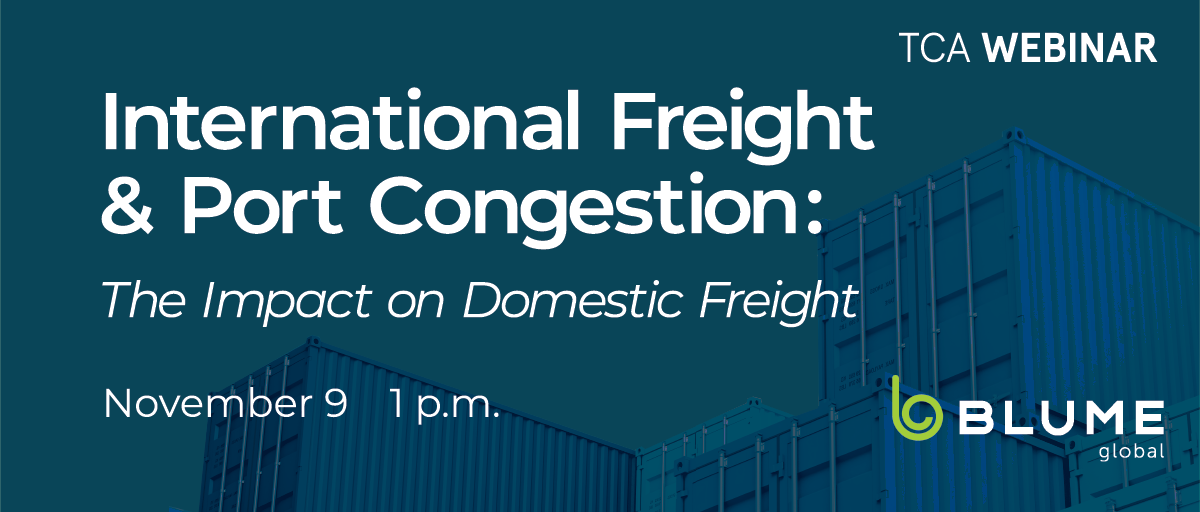 Carve out time in your schedule to join TCA and Blume Global for a complimentary webinar, International Freight & Port Congestion: The Impact on Domestic Freight, set for 1 p.m. ET on Tuesday, November 9.
Quickly getting in and out of ports and distribution centers has become a headache in the current market, and there are unfortunately no signs of the status quo shifting anytime soon. Even so, are there digital solutions that could help unclog trucking lines and increase turn times? Blume Global's Glenn Jones and GSC Logistics, Inc.'s Dave Arsenault will discuss the trucking impact of congestion at inland transfers and the ports, exploring how digitization can play a role in easing congestion.
During this webinar, speakers will discuss:
• High-level international handoff to domestic issues;
• Port congestions related to the trucking industry;
• Drayage and distribution;
• Ecommerce and demand;
• Government mandates;
• Ways to maximize visibility; and
• Sustainability and how all of this leads to needing a better environmental approach.
Speakers
David J. Arsenault
President
GSC Logistics, Inc.
Glenn Jones
Global Vice President of Product Strategy and Marketing
Blume Global
Thanks to Our Sponsor
Blume provides a robust network for logistics tendering, tracking, event capture, POD verification and settlement initiation. By connecting a global ecosystem of multi-modal carriers to manage every move, Blume unites carriers, from ocean to rail to long haul, with first- and last-mile drayage for real-time event and cost tracking.