View All Events
Truckload Operations Seminar — Indianapolis
Thursday, June 22, 2023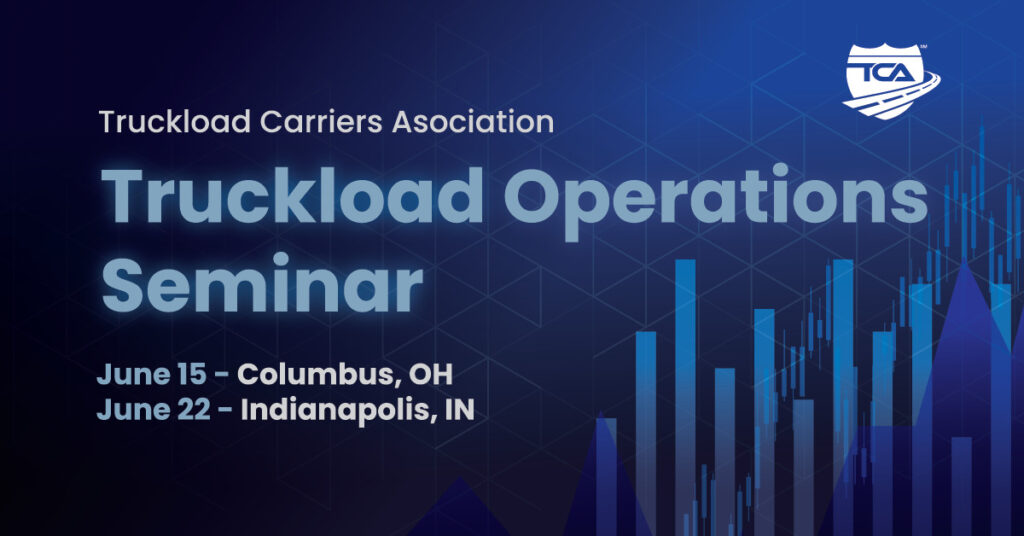 June 22, 2023
8:00 a.m. – 4:00 p.m.
(Lunch Provided)
TCA is hosting a series of seminars this summer in a city near you:  
June 15, 2023: Columbus, OH (Operations)
June 22, 2023: Indianapolis (Operations)
Registration Fees:
TCA For-Hire Carrier members receive a special discounted registration rate of $249 per person.
Non-TCA Members are $499 per person.
Operations Workflow Best Practices
Agenda
Call to Order at 8AM (Amanda Pearson)
Opening Comments
Anti-Trust Review
Roundtable Introductions:

Name, Role
Business Attributes: Location, Operational Locations, # of Trucks, Operating Mode
Main Strengths of your Operational Team?
Main Weakness of your Operational Team?
TPP Operations Metrics Review:
Key Metric Review from InGauge
Measure Trends and Comparisons
Weekly Operating Control Report
Break at 10:00AM
Customer Service and Load Processing
CS Team review
Order processing workflow
OSD and reschedule protocol
Open Discussion with Q&A from the Members
Driver Managers
Responsibilities of Driver Managers
Training and Career Advancement
Avoiding burnout
Communication Throughout Operations Team
Booking loads to meet driver needs
Service failure protocol
KPIs to keep the team moving
Open Discussion with Q&A from the Members
Lunch at Noon
Presentation by ORBCOMM
Company Overview
Industry Challenges addressed
Platform demonstration
Open Discussion with Q&A from the Members
Break @ 3:00 PM
Retaining Talent
Operational culture
How to keep your team motivated
Retention offers other than salary
Open Discussion with Q&A from the Members
How TCA Can Enhance Your Ability to Improve Operational KPI's
The new Truckload Academy
Advocacy efforts to help widen the net for recruiting
Town Hall Closing Session: Open Question & Answers
ADJOURN @ 4PM
Venue:
NOTE: Hotel booking information will be sent upon registering for the event. 
Hyatt Place Indianapolis Airport
5500 W Bradbury Ave
Indianapolis, IN 46241
Room Rate: $129.00 per night
Dress Code:
Dress code for this meeting is business casual.
Questions
Thanks to Our Sponsor