2019 TCA Safety Professional of the Year – Clare C. Casey Award Presented to John Mallory of John Christner Trucking, Inc.
06/04/2019
Memphis, Tennessee: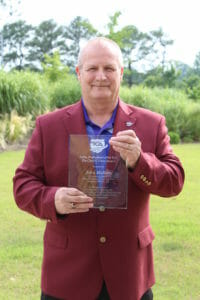 The Truckload Carriers Association (TCA) has awarded John Christner Trucking, Inc.'s Director of Safety, John Mallory, as the 2019 TCA Safety Professional of the Year — Clare C. Casey Award recipient. The announcement was made during TCA's 38th Annual Safety & Security Division Meeting in Memphis, Tennessee.
This honor is bestowed upon a trucking industry professional whose actions and achievements have made a profound contribution to enhancing safety on North America's highways.
"John has an absolute passion for our industry, particularly making it safer," says John Christner Trucking, Inc.'s Vice President of Risk Management Shannon Crowley. "He spends much of his free time in pursuit of just that."
In addition to being employed by John Christner Trucking, Inc. for 13 years in its safety department, as well as a third generation professional truck driver for more than two decades, Mallory has an extensive list of accomplishments.
Crowley shared that Mallory was persistent in obtaining his safety professional credentials once arriving at the company.
"His tenacity is what got him in the door and that same tenacity is what led him to achieving his Certified Director of Safety designation and becoming our Director of Safety," adds Crowley.
During his career, Mallory has served on the Oklahoma Safety Management Council for 12 years, is a member of the Oklahoma Trucking Association, and serves on the American Trucking Associations' Safety Management Council for driver recognition and accident review.
He is also a recipient of the John Christner Trucking, Inc.'s Pete Osborne Lifetime Achievement Award in 2017; Oklahoma State Management Council's Past Chairman Award; and Oklahoma Trucking Association's 2012 Safety Professional of the year.
He proudly serves as a judge, chairman, and as "The Duck" mascot at the Oklahoma Truck Driving Championships.
"John is a great leader in his church as well as other organizations such as Truckers Against Trafficking," shares his wife, Dianne Mallory, who nominated him for this award. "He is most loved by many for his role as 'The Duck.'"
Mallory is a pillar in his community. He serves on the Tulsa Tech Truck Driving School advisory council, is a member, usher, and greeter at Life Church in Owasso and Catoosa, Oklahoma, and is active in the Owasso Police Department K9 unit training canines and officers how to maneuver around and inside 18-wheelers. He also participates in the annual Sapulpa Truck Touch.
On behalf of John Christner Trucking, Inc., Mallory has accepted numerous Fleet Safety Awards from TCA, several other industry associations, and both Wal-Mart and Tyson Foods.
"John is always eager to learn, willing to participate, and simply will not be outworked. If there is someone more deserving of this recognition, I haven't met them," said Crowley.
Nominees for TCA's award must exemplify leadership and demonstrate the goals of protecting lives and property in the motor transportation industry while serving their company, industry, and the motoring public. The award is named after Clare Casey, a safety professional who actively served TCA from 1979 until 1989. He was devoted to ensuring that all truckload safety professionals build a strong safety network, and was instrumental in forming the first annual Safety & Security Division meeting in 1982. The first Clare C. Casey Award was presented in 1990, one year after his death.
View photos from the awards presentation, and other events taking place during TCA's 38th Annual Safety & Security Division Meeting, by visiting www.truckload.org/Flickr.