CalArk International, Inc. Driver Assists Motorist in Rollover Incident
08/09/2019
Alexandria, Virginia: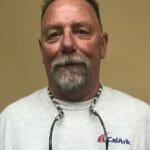 The Truckload Carriers Association has named Kevin Phillips of Sheridan, Arkansas, a professional truck driver with CalArk International, Inc. of Little Rock, Arkansas, a Highway Angel. He is being recognized for aiding a woman after vehicle rollover.
Phillips has been a truck driver for 30 years, but says he's never experienced anything like what happened May 22. It was 5 a.m. and Phillips, a warehouse driver for CalArk, had already made his first delivery of the day in Pine Bluff, Arkansas. It was raining hard and much of the area was in a flash flood warning. Phillips was on 79 South, on his way to El Dorado, Arkansas. Already driving slower than the posted speeds, he was entering a sharp curve in the road when a mid-size vehicle came around him, driving too fast for the conditions. The car began hydroplaning and fishtailing. Phillips had just seconds to make a quick emergency maneuver into the adjacent lane to avoid impact. He watched as the car slid off the road into a grassy area, hit a culvert, and then rolled four times, narrowly missing a telephone pole.
Fortunately, the driver, a young woman in her 20s, was wearing her seat belt. By the time Phillips safely pulled over, the woman had exited her vehicle and came rushing over to him. She was visibly shaken, in shock, and wet from the pouring down rain. She had sustained a bad cut to her head.
As Phillips called 911, the woman told him she was a nurse and was on her way to work. She asked to use his phone to call her parents. Phillips led her to a nearby tree to get out of the rain. He held her hand and tried to calm her. Later, as she was being treated by first responders, Phillips retrieved her purse from her vehicle and placed it on the gurney with her.
"That scared me to death," Phillips said, adding that those few terrible moments when the woman lost control of her car right in front of him was the longest ride he's ever had. "If things had been off by just a couple seconds it would have been a tragedy."
For his willingness to assist, TCA has presented Kevin with a certificate, patch, lapel pin, and truck decals. His employer has also received a certificate acknowledging their driver as a Highway Angel. Since the program's inception in August 1997, hundreds of drivers have been recognized as Highway Angels for the exemplary kindness, courtesy, and courage they have displayed while on the job. EpicVue sponsors TCA's Highway Angel program.