Professional Truck Driver Helps Resuscitate Colleague
09/26/2019
AATCO (Tri-State) Driver Named TCA Highway Angel

Alexandria, Virginia:
The Truckload Carriers Association has named Clyde Nelson of Neosho, Missouri, a professional truck driver with AATCO (Tri-State) of Joplin, Missouri, a Highway Angel. He is being recognized for his efforts to resuscitate a colleague after she collapsed from an apparent cardiac arrest.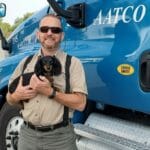 Clyde Nelson was walking across the parking lot at work one morning in July when he noticed a woman lying on the grass across the way. He almost didn't give it much thought. He figured she was taking a break and enjoying the beautiful day. However, something told him to go check on her. As he approached, he was shocked to find her unconscious and her eyes rolled back in her head. He patted her on the cheek, and she took a breath but then that was it. Another person rushed over to help, checked, and found a pulse but the woman wasn't breathing. Nelson began performing CPR, but now there was no pulse. A third person came over and called 911, relaying what was happening to the dispatcher. Did Nelson know how to do CPR? Nelson replied that he'd learned it 40 years ago during Army basic training but didn't know how to do chest compressions. The dispatcher talked him through it as they waited for help to arrive.
"It felt like someone was guiding my hands," says Nelson. "I stayed as calm as I've ever been. I knew I had to think clearly about what I was doing." When paramedics arrived, they had to use the defibrillator four times to get the woman's heart going again.
The woman who collapsed is a colleague of Nelson's. "I had spoken to her less than two minutes before that," he says. "She was walking across the parking lot to put something in her car, but I didn't see her collapse." Nelson said he is thankful to the others who rushed over to help that day. "We were all praying she would make it."
Nelson is also thankful for what he's learned about CPR from watching television. "I knew that the rhythm from (the Bee Gees') Stayin' Alive is how fast to do chest compressions," he says. "And you have to deflect about 3" to actually do any good but it felt like I would break her ribs."
Nelson says he was on a high for a week after that. He went to visit his colleague a couple days later in the hospital. "Usually people who have those kinds of attacks, don't survive," he says. "I'm glad she'll be coming back to work soon."
Nelson is hopeful his experience will encourage others to step up and take a chance to help someone. He now has plans to become certified in CPR. "If I run across that situation again, I want to have the confidence to say I know how to help."
For his willingness to assist his fellow drivers, TCA has presented Nelson with a certificate, patch, lapel pin, and truck decals. His employer has also received a certificate acknowledging their driver as a Highway Angel. Since the program's inception in August 1997, hundreds of drivers have been recognized as Highway Angels for the exemplary kindness, courtesy, and courage they have displayed while on the job. EpicVue sponsors TCA's Highway Angel program.