Ruan Transportation Management Systems Truck Driver Named TCA Highway Angel 
01/18/2019
Professional Truck Driver Rescues Small Child from the Side of the Road
Alexandria, Virginia:
Mike Johnson of California, Missouri, a professional truck driver for Ruan Transportation Management Systems of Des Moines, Iowa, has been named a Highway Angel by the Truckload Carriers Association (TCA). He is being recognized for rescuing a small child, found alone in a ditch, in the wee hours of the morning.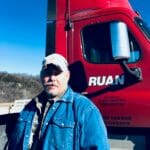 It was 4 a.m. on July 13 and Johnson was traveling on Highway 19 in Missouri, making his way to pick up a load in Iowa. As he approached the tiny town of Laddonia, Missouri (pop.500), he could see something white ahead of him, in the ditch, reflecting in his headlights. Maybe it was a deer, he thought. It was dark out and his headlights were the only source of light. As he got closer, the white object popped up out of the ditch! It was a small child, barefoot, and wearing only a diaper. Johnson carefully pulled over to the shoulder, putting on his hazards. The child, holding an orange sippy cup, climbed out of the steep ditch and ran across the two-lane road toward Casey's General Store. It hadn't opened yet and there was no one else around.
Johnson got out of the truck and carefully approached the child but it ran back across the road and into a gravel parking lot. The child was visibly frightened and crying. He finally caught up to the child, picked it up, tried to comfort it, and called 911. The child put its head on Johnson's shoulder and hugged him tight. A police officer arrived and took the child to be examined at a local hospital. Later, Johnson phoned the City Hall and learned the child was a little boy and officials had located his mother.
Johnson is a single father of a son and hates to think about what may have happened to that little boy if he hadn't happened to glance at the ditch at just the right time. "You're always watching for deer," Johnson says, "but that day, it just came down to seeing the movement and stopping to check it out.
Ruff Yokley is a dedicated transportation manager at Ruan Transportation. "Mike's attentiveness for always scanning for anything that might come out of the darkness and his experience expanding his view saved the life of this toddler," he says.
For his efforts to help this small child, TCA has presented Johnson with a certificate, patch, lapel pin, and truck decals. Ruan Transportation Management Systems also received a certificate acknowledging their driver as a Highway Angel. Since the program's inception in August 1997, hundreds of drivers have been recognized as Highway Angels for the exemplary kindness, courtesy, and courage they have displayed while on the job. EpicVue sponsors TCA's Highway Angel program.