Spartan Direct, Swift Transportation Company Drivers Rescue Stranded Colleague on Busy Highway
06/27/2019
Alexandria, Virginia: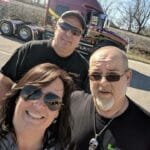 Professional truck drivers Scott Wagner of Spartan Direct, based in Pevely, Missouri, and Robert Barnette of Swift Transportation Company based in Phoenix, Arizona, has each been named a Highway Angel by the Truckload Carriers Association (TCA). They are is being recognized for their willingness to drive nearly an hour to rescue a colleague stranded on the side of a busy highway.
On March 27, Shannon Currier was on her way to the Mid-America Truck Show in Louisville, Kentucky when she ran over something in the road. She knew she had a problem. She pulled to the side of the road and got out to check for damage. One of her tires was hissing and went flat within a matter of seconds. Currier phoned her husband (who was six hours away at home) to get their AAA information but discovered the coverage had lapsed.
Currier is the Director of Philanthropy & Development for the St. Christopher Truckers Relief Fund and was eager to join her team in setting up their booth at the show. She placed a couple calls to coworkers and driver colleagues to let them know what had happened and that she would be delayed. One of the people she called was Wagner, a driver with Spartan Direct. He and Spartan Direct's owner/operator, James Rogers, are driver ambassadors for the St. Christopher Truckers Relief Fund and had just arrived at the show. Wagner grabbed a buddy, Barnette, an owner operator with Swift Transportation Company and the two jumped in Barnette's truck and drove 38 miles to aid Currier.
"Scott and Robert knew the danger I was in being a female out there alone," Currier says. "I don't know how long I would have had to sit on the side of the road waiting for help or waiting for our AAA to be reinstated and then for a driver to come help me."
Wagner agrees, "You're in the line of danger no matter how far off the road you are. And she wasn't near an exit. We let her know we'd come and rescue her."
"Scott had the flat tire off and the spare donut (tire) on the truck faster than I could blink an eye," Currier adds. "I told him he was NASCAR fast." The two professional truck drivers followed Currier to Walmart (going just 40 mph on the spare) so she could have a new tire installed. "They stayed with me for another two hours while we waited for the new tire."
Turns out Currier had run over a 5/16-inch wrench lying at just the right angle on the road to puncture her tire and become completely embedded. Wagner held onto it. He plans to fashion it into a memento of the day to present to her. "We'll be able to laugh about it," she said. "These friends of mine saved me from spending hours on the side of the road in unsafe traffic. I only hope they know how much their help means to me."  
For their willingness to assist their fellow drivers, TCA has presented Wagner and Barnette with a certificate, patch, lapel pin, and truck decals. Their employers have also received a certificate acknowledging their drivers as Highway Angels. Since the program's inception in August 1997, hundreds of drivers have been recognized as Highway Angels for the exemplary kindness, courtesy, and courage they have displayed while on the job. EpicVue sponsors TCA's Highway Angel program.