Adrian Vigneault Joins TCA
04/12/2019
Alexandria, Virginia: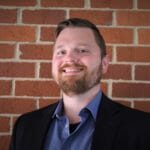 The Truckload Carriers Association is pleased to announce the addition of Adrian Vigneault to its skilled workforce as Associate Director of Education.
Adrian joins the TCA team with a diverse professional and educational background, focusing on instructional design, program management, and instruction/delivery.
After graduating from Universal Technical Institute and Ford Accelerated Credential Program. He attended Northern Virginia Community College, and graduated from George Mason University from the Bachelor of Individualized Studies program in Military Conflict Analysis.
Adrian has held roles as a defense contractor to training U.S. military personnel on Improvised Explosive Device (IED) detection. Adrian earned his Army Basic Instructor Certification (ABIC) and his MRAP (Mine Resistant Ambush Protected) Operators Certification. Through these opportunities, Adrian gained experience driving and operating trucks weighing up to 18 tons.
In addition to his professional experience, Adrian enjoys traveling with his wife, Melissa, and throwing a Frisbee with his boxer, Nitro. He can also be found in the garage building new projects, making things faster, breaking them, and fixing them once again. He also volunteers his time with the Staff Alumni Association in Goshen, Virginia at Camp Olmsted.